The PlayerStudio provides elite coaching for young athletes and experienced lacrosse players. We have created an atmosphere that breeds confidence and fair play while pushing athletes to focus on how they can become their best on and off the field. We mentor our athletes during their time with us to improve their level of play and lacrosse IQ.
In August 2008, Rob Pannell stepped foot on Cornell's campus for the first time his freshmen year. His first stop with his parents was Shoellkopf Field where Max Seibald happened to be stopping by the coach's offices and was the first person to welcome Rob and his parents to Ithaca. With Robs locker placed next to Max's, the two formed a relationship that year, one mainly consisting of Rob studying Max's every move. Max was not only a great player on the field, but a great leader and great person off the field. Max had a career at Cornell that inspired Rob, and was something that he too wanted. Falling short in the National Championship game together that year was a game that would only fuel Max and Rob's success moving forward. While Rob was finishing up his career at Cornell, Max was developing a brand himself in the lacrosse world. Max brought his passion for lacrosse all over the country, running camps and clinics for players of all skills and ages, often times bringing Rob with him. Max and Rob realizing they not only worked great together on the field, but off the field as well, developed a system for teaching youth lacrosse players the right way to play the sport. Through their careers together at Cornell University, on the NY Lizards, and on Team USA, they have share a common approach to both the game and life itself. Work ethic, character, attention to detail, commitment and a desire to be the best at anything they do, have driven them to be at the top of the game as players and coaches. With that, they along with others in their close circle of elite players and coaches, plan to use those same traits and spread the same values through their training on all levels. The 2009 Cornell Lacrosse season was the start of a bond and a friendship that blossomed into Alpha423 Lacrosse.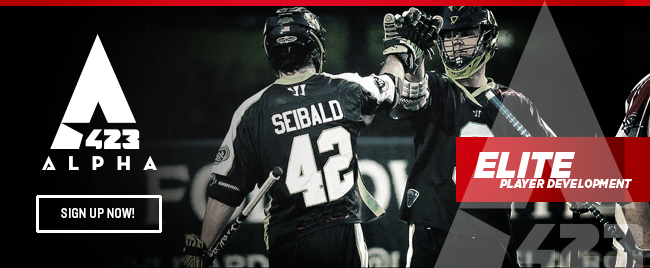 In realizing that seeing a player once or twice a year can only go so far, Rob started The PlayerStudio, a year round digital lacrosse offering. The PlayerStudio serves as every player's year round private lesson, a resource to constantly go back to when coaches like Rob and Max aren't around. Max along with Tucker Durkin and Drew Adams loved the idea and jumped on board. Realizing the relationship between The PlayerStudio and Alpha 423 Lacrosse, it made sense to start operating under one name, The PlayerStudio. We want to make sure every players on the field camp or clinic experience can be enhanced by an instructional offering from their backyard, year round.
Thats where we stand today, with The PlayerStudio digital offering launching in a few weeks and our first series of camps to take place this coming summer!